Interface for sockets. More...
#include <socket.hpp>
[legend]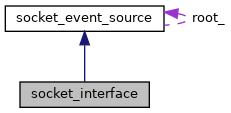 [legend]
Interface for sockets.
Can be used for layers, see fz::socket for the expexted semantics.
◆ shutdown()
Signals peers that we want to close the connections.
Only disallows further sends, does not affect reading from the socket.
Returns 0 on success, an erorr code otherwise. If it returns EGAIN, shutdown is not yet complete. Call shutdown again after the next write event.
Implemented in socket, tls_layer, and rate_limited_layer.
◆ shutdown_read()
| | | | | |
| --- | --- | --- | --- | --- |
| virtual int shutdown_read | ( | | ) | |

pure virtual
---
The documentation for this class was generated from the following file: